Electromagnetic Modeling & Signal Integrity Seminars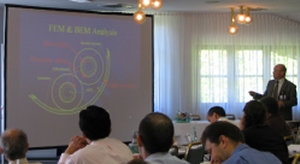 Today, the combination of shrinking feature size, increased packing density, increased interconnect length, and faster clock rates have created new challenges for engineers developing high-performance digital and analog systems.
This course is designed to provide a theoretical review and understanding of the advantages and disadvantages of different electromagnetic analysis, numerical techniques, and transmission line theory used for high-performance signal integrity analysis. Justification for when interconnect modeling is needed is described together with different modeling techniques. Methods for identifying and reducing signal integrity and timing problems are also discussed.
Course Format
The format of the course includes a combination of tutorial presentations and open discussion. Software demonstrations are also included if time and resources permit. Practical application of fundamentals is stressed and maximum interaction with the instructor and other participants is encouraged. A sampleoutlineis available for review.
This course is typically presented as a 2-day on-site seminar which is customized to fit your company's specific electromagnetic-modeling-and-signal-integrity-analysis learning needs and objectives. Because this is a closed seminar (no one from outside your facility allowed unless you specify), we encourage participants to bring their own design problems for discussion and consultation.
The seminarinstructoris Dr. Juliusz Poltz, an experienced and well respected member of the electromagnetic and signal integrity community. He is a senior member of IEEE, and has taught electromagnetics, mathematics, and signal integrity to hundreds of engineers worldwide.
Seminar Fees
The seminar fees are based on the number of engineers you wish to have attend the course, as well as the location of your facility. We charge a flat rate total for the 2-days which is payable in advance of the seminar and includes instructor time, travel costs, and all course material handouts for the attendees. No additional costs or fees are charged.
To obtain a quotation or discuss further details about the seminar, please fill out ourform. Alternatively, please emailOptEMor call us at +1(403)289-0499.