OptEM Cable Designer Training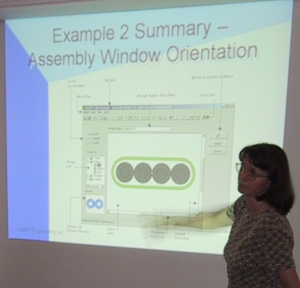 This is a 2-day training seminar held in variouslocationsthroughout the year for the OptEM Cable Designer software tool. The participants will be able to solve practical cable design problems using the software. The instructor will step through material definitions, cable geometry setup and extrusion, 3-D cable viewing, twisted-pair cable analysis, NEXT, FEXT, and S-parameter results, and a spreadsheet interface to automate the creation of multi-pair (including special) cables. A theoretical review of electromagnetic analysis, numerical techniques, and transmission line theory are included to help attendees understand the how-and-why of cable modeling and analysis in OptEM Cable Designer.
Course Format
The format of the course includes a combination of tutorial presentations, open discussions, and hands-on software demonstrations. Practical application of fundamentals is stressed and maximum interaction with the instructor and other participants is encouraged. A sampleoutlineis available for review.
For the hands-on demonstrations, we strongly encourage participants to bring their own laptops running Windows 8, 7 or XP, onto which we can load a copy of the software for use during the class demonstrations. Minimum hardware requirements include a USB port (for loading the software), 3.2 GHz processor or higher, and 4 GB RAM or more. Please contact OptEM directly if you have any questions or concerns about the hardware and operating system requirements.
The seminarinstructoris Dr. Juliusz Poltz, an experienced and well respected member of the electromagnetic and signal integrity community. He is a senior member of IEEE, and has taught electromagnetics, mathematics, and signal integrity to hundreds of engineers worldwide. Additional teaching support is provided by Ms. Joan Beckett, product marketing manager at OptEM.

Seminar Fees
Fees payable depend on where the course is held and the number of attendees from one company attending the same seminar. The full registration fee is payable in advance, and includes the seminar, all seminar materials, refreshments, and lunch both days. Pricing is subject to change.
If you cancel less than the cancellation period prior to the seminar you may transfer your registration to another employee of your company or to another seminar of your choice within 12 months. OptEM Engineering reserves the right to reschedule or cancel seminars. In the event of OptEM cancelling, all registration fees will be refunded in full. OptEM cannot be held responsible for costs incurred other than the registration fee.
To sign-up for any of our scheduled training seminars, please go to ourregistrationpage. Alternatively, you can emailOptEMor call us at +1-403-289-0499.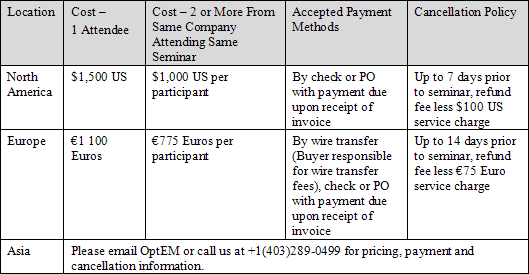 On-Site Training
OptEM offers on-site training which can be more convenient and cost effective depending on the number of engineers wanting to attend from your company. The course can also be customized to fit a 2-day or 3-day schedule in order to suit your company's specific cable modeling needs and objectives. Because this is a closed seminar (no one from outside your facility allowed unless you specify), we encourage participants to bring their own design problems for discussion and consultation.
Fees for on-site training are based on the number of engineers you wish to have attend the course, as well as the location of your facility. We charge a flat rate total which is payable in advance of the seminar and includes instructor time, travel costs, and all course material handouts for the attendees. No additional costs or fees are charged.
To obtain a quotation or discuss further details about an on-site seminar, please fill out ourform. Alternatively, please emailOptEMor call us at +1-403-289-0499.