Measurement & Modeling of Insertion Loss in Cables with Helical Screens
REFERENCE NUMBER: C15-IWCS2011
AUTHORS: M. Josefsson and J. Poltz
VENUE: Presented at the 60th IWCS/Focus Conference, November 7-9, 2011, Charlotte, NC, USA
ABSTRACT - Insertion loss and return loss were measured in a number of manufactured and hand assembled Twinax cables with helical Al-PET foil screen to investigate abrupt increase of insertion loss at higher frequencies. This phenomenon, frequently identified as suck-out effect, may prevent usage of Twinax cables with helical screens in next generation networks which will require transmission speeds up to 25 Gbit/s. The objective of the paper is to show how the suck-out effect frequency can be calculated and modeled without costly manufacturing of prototypes. The paper also suggests a simple manufacturing process which still utilizes the helical screen but can push the suck out to a desired frequency range that is well above the channel requirements.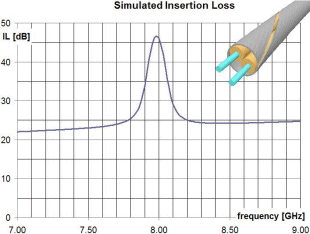 To obtain a copy of this paper please make a note of the reference number and fill out ourrequest form.
Back to alltechnical papers.
Back to top